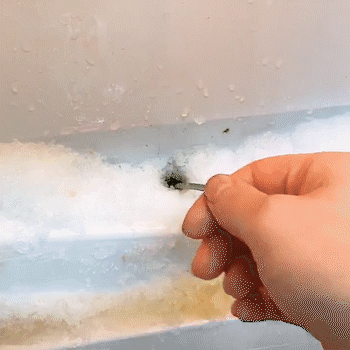 FEATURES:
Keeps your hose bacteria-free
Clean your refrigerator drain and other long tubes to remove bacteria and stains so they don't contaminate your hose, food, and goods with the flexible brush cleaner.
Maximizes the taste of food
Using this brush maximizes the taste of food since stains and bacteria do not get into your refrigerator and food. The total length of 155 cm (61 inches) is perfect for cleaning the refrigerator drain, the car sunroof drain pipe, or other long hoses.
Flexible and soft grip
Tubular brush at one end and loop end at the other; Nylon bristles gently scrub bacteria and stains without damaging the hose. works on any surface material (copper, vinyl, plastic pipe applications).
Come to these uncomfortable angles
The hose brush is flexible to work with curved hoses (angled less than 90 degrees). The nylon bristles collect and remove the drain, food, fat accumulation, and dirt. durable enough for long-term use.
Easy handling
Insert the flexible handle (brush end first) into the hose and gently scrub the inside as you work the brush out. The flexible yet robust wire-body meanders effortlessly and goes deep into every drain.
SPECIFICATIONS:
 Product type: cleaning brush
Material: Nylon + stainless steel
Size: 90cm/35.4"; 155cm/61"
Color: black, transparent
Package: 1 * Fridge Cleaning Mini Dredge Brush