Most Relaxing Hanging chairs are the trend of the moment! If you look around, you'll see them springing up more and more often. Which makes perfect sense, as a hanging chair allows you to sit like a king and brings you almost immediately into zen mode. The great thing about the hanging chair is that it combines the relaxation of a hammock with a slightly more active posture of sitting in a chair. This makes the hanging chair ideal for sipping a drink or reading a book.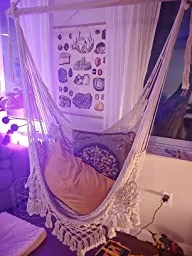 Handcrafted from comfy and durable cotton ropes of the entire chair promise enjoyment and durability.100 cm(3 1/3 ft) length wide spreader bar provides ample shoulder room. Extra-long built-in footrest to really stretch out. The mesh lets the cool breeze blow your body, breathable and cool, your perfect summer companion. The material is so soft and skin-friendly that even when thinly clothed the lying in this hammock chair is extremely comfortable.
A hanging chair takes up relatively little space compared to a hammock. It only has 1 suspension point, which is located directly above the hanging chair. This means that you can quickly and easily hang the hanging chair in many different places. For example, easily hang it from a branch of a tree, or from a beam under your roof canopy or porch. You can also hang them in your balcony, terrace, living room, children's room, kids bedroom, attic, etc.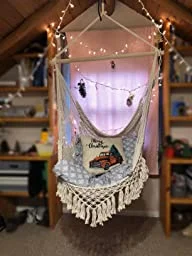 Wood spread bar and net are natural color, the overall color is simple and fashion, very suitable for Nordic style theme decoration, adding fun, romance, and fashion to your bedroom/living room. Of course, when you put it in the garden/courtyard, it also does not contradict the diversity of nature. In addition, on the two sides of the wooden bar, there are two tassels, and the bottom has lace. When you hang it up, just look at it and feel happy!
Each chair is handcrafted, if there are process defects, or the chairs are damaged within one year from the date of purchase, we will definitely provide a new replacement.
Tassels add elegance
Tassels at the bottom and at both ends of the spreader bar make the whole hanging chair have a sense of style. Ultra fashion, elegance, and gentleness. It almost looks like artwork due to the rich colors, the materials, and the pattern.
It provides you with a fun way to relax in the sun. Its availability in different colors allows you to choose as per the suitability of the environment you want to use it.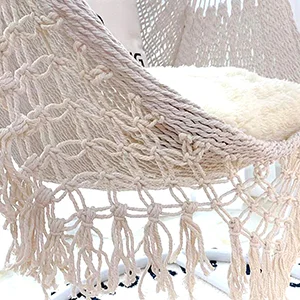 Handmade cotton rope is a woven chair
Being made of soft cotton fabric. It provides you enough comfort and breathability due to its netted structure. It allows you to extend their legs, stretch with your body. Deep enough to put your feet out and up like a recliner.
It feels like you're wrapped in a soft, breathable cocoon. You can either sit with your legs dangling and swing or you can stretch out your legs in more of a hammock style. It is able to accommodate most people.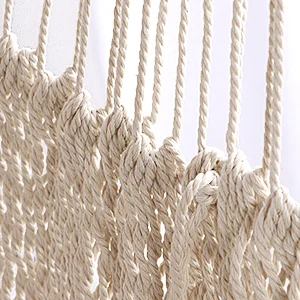 A natural wooden spreader bar
The 100cm length bar provides a wide and spacious space on your back, head, and shoulders. The diameter is 3.5cm, which makes it safe when you put your entire weight on the chair.
The grooves at both ends can hold the chair cloth and the top loop tightly without worrying about slipping.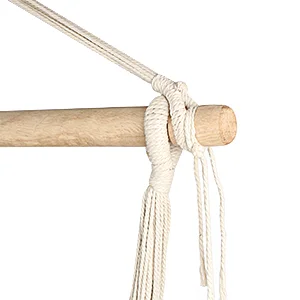 | | |
| --- | --- |
| Product Dimensions | 94.49 x 31.5 x 59.06 inches |
| Item Weight | 3.84 pounds |