a Wireless Color Weather Station with precise, real-time backyard weather. Animated color forecasts with trends react to changing barometric pressure. Monitor in/out temperature trends with high and low alert settings. Measure in/out temperature and humidity with daily min/max records–all on one easy-to-read color display with adjustable brightness.
Full-color display with adjustable brightness settings

Full Calendar (Weekday)

Wireless outdoor temperature & humidity

Customizable alerts

Self-setting accurate atomic time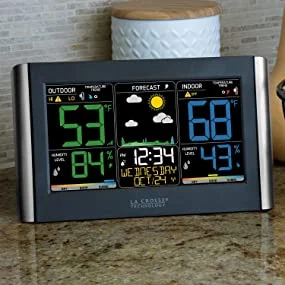 Wireless Color Forecast Station – Your Weather, Your Way!
Wireless transmission
The included weather-resistant sensor transmits outdoor temperature & humidity to the indoor display.
Transmission range of 300ft (open-air, no obstructions).
TX141TH-Bv2 Sensor requires 2 'AA' batteries (not included).
Indoor Temperature Range: 32˚F to 122˚F (0˚C to 50˚C).
Humidity Range: 10% – 99% (RH).
Outdoor Temperature Range: -40˚F (Lithium battery) to 140˚F (-14˚C to 60˚C); reads down to -20˚F, if using alkaline batteries.
Mounting sensor: We recommend mounting sensors vertically, out of direct sunlight, and in a well-ventilated sheltered location. Metal siding, stucco, and some types of glass can greatly reduce the signal's range.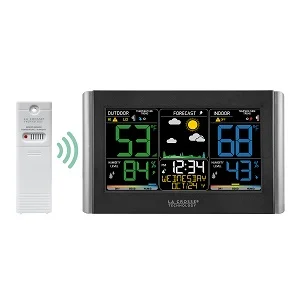 Dynamic full-color display
Full-color forecasting icons (allow 7 to 10 days for barometric calibration as will ensure an accurate personal forecast for your location).
Heat index and dew point.
Adjustable backlight (HI/LOW/OFF).
Indoor & wireless outdoor temperature (F/C) and humidity (%RH) with MIN/MAX recorded data.
Comfort level charts (Indoor & Outdoor).
Trend indicator (Humidity & Temperature).
Alert settings for Indoor & Outdoor temperature & humidity values.
Time alarm with a 10-minute snooze feature.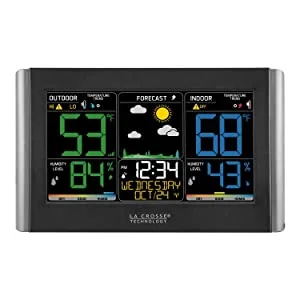 Simple set-top buttons
Self-setting atomic time and date (manual set optional).
Automatic Daylight savings time resets (ON/OFF option).
Seven USA time zones (Atlantic to Hawaiian).
12/24 hour time mode.
Signal strength, Low battery, Atomic reception indicator icons.
The display can either be wall hung or kick-out leg stand to set onto a desk or table.
The display includes a 5.0V AC adapter but requires 3 AA alkaline batteries (not included) for backup for power loss.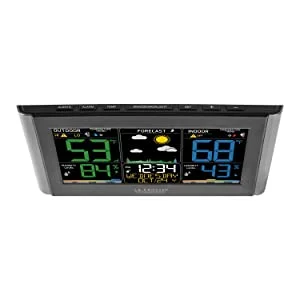 Product description:
Full-color display gives you current temperatures & humidity, with a future forecast whether it could be sunny or rainy to snowy. Features accurate, self-set atomic time & date with automatic DST updates. Records min/max values and alerts you of extreme temperatures. Also displays your heat index and dew point. Will indicate of weak or low battery and the signal reception strength.Product Dimensions:8.98 x 1 x 5.43 inches.