This 3D printing magnetic moon lamp levitates silently throughout the day. It uses Magnetic levitation technique to spin and float without any support.
The lamp is  3D printed from super-strong PLA using a high resolution scan of the real moon. This moon lamp emits soft light to create a calm and relaxing atmosphere. 
There are 3 color modes to choose froom – warm yellow color, white color. The color changes with just a touch fo the power button.
It has a touch-button ON / OFF switch which lights up your room with just a touch.
Give one to your friend of family members to light up their nights with joy!
Perfect Home Decor Gift
Great moon lamp for decoration in the office.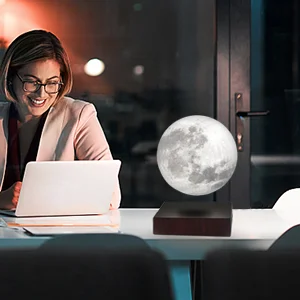 At Home
Perfect lamp decor for the bedroom.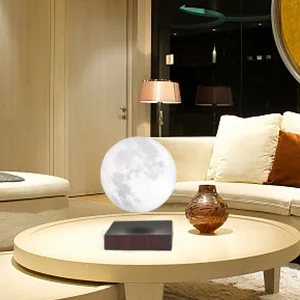 In a kid's Room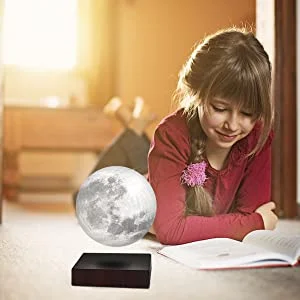 Hover and rotates endlessly which mesmerizes everyone.
How To Levitate Your Moon Lamp

Step 1:
Place the moon lamp and base on a flat surface. Plug the AC Adapter and another end DC power insert the base.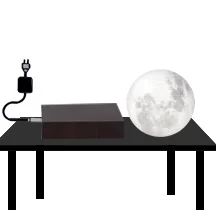 Step 2:
Start from a height of about 6 inches above the base. Carefully lower the moon with both hands directly over the center of the base, keeping it level until you feel the upward magnetic force supporting the weight of the moon.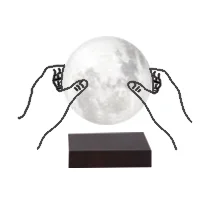 Step 3:
When you feel the magnetic force supporting the weight of the moon, gently let go keeping it centered and level. If it falls, simply lift the moon and try it again. If at first, you don't succeed, Try, try, try it again.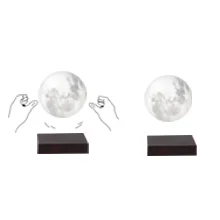 Step 4:
Finally, touch the POWER sign on the base to turn on/off your levitating moon lamp.